LABOR DAY "SHOW'N SHINE
CAR SHOW UPDATE No. 2!
UPDATE NO. 1 BELOW
Around 1 pm at the Show & Shine Show, Sharon Weatherhead, from Highlands News-Sun came to our tent, told us who she was (she was wearing a "PRESS" neck tag) and, asked Ron, Pete, and myself if we minded coverage in the paper. So she asked a few questions, took photos, and thanked us for our time.
The following Wednesday, we're in the news!
To see the much larger version of the story, just click on the below image!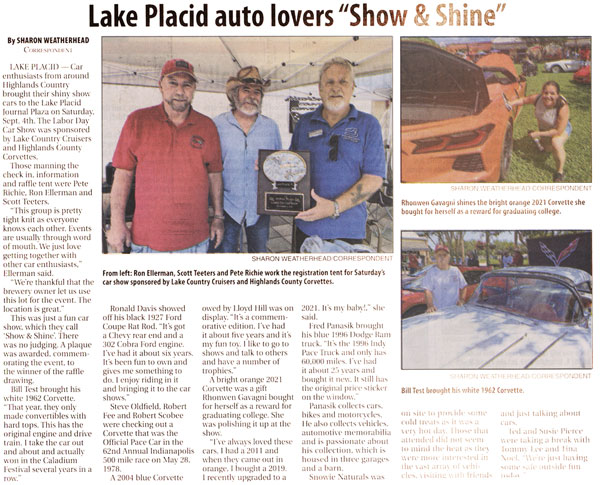 ---
Our Labor Day Day "Show & Shine" car show on September 4, 2021 was a delightful success. We stuffed 38 cars into our little downtown Lake Placid space. Almost everyone that entered a car in the show came with at least one other person, plus we had Lake Placid shoppers that saw our show and came in to enjoy the cars and trucks.

The weather cooperated, no rain, and not "too" hot. In short, everyone had a great time! Here are some snapshots from the show! Scott & Patti Sortor won the Cruiser Award!
Thanks to everyone that attended the show.
Our next Lake Country Cruisers Car Show will be on October 9th at the Lake Placid American Legion Post 25 on Rt. 27 from 11 am to 2 pm.
Our next Highlands County Corvettes Show will be on October 23 at the Lake Placid American Legion from 11 am to 2 pm.
See you then!
---
Busy September 4, 2021, from 11 am -to-2 pm? No??? Well, let's fix that!
Lake Country Cruisers won't have another official club car show until October 9, 2021; nearly two months from now!
Our Independence Day "Show & Shine" car show in the courtyard adjacent to Morty & Edna's and Wet Dogs Brewing was so much fun (rain aside) we decided to DO IT AGAIN!
Wet Dog Brewery will be open serving their craft beers and soda pops, and Morty & Edna will be making their KILLER sandwiches! (their BLT is AMAZING!)
So bring a cooler, an umbrella, snackies, drinkies, lots of American flags, your best street machine, and let's celebrate Labor Day, AMERICAN STYLE!!!!
Tell all your motorhead pals! And yes, bring your Vette!