Dateline: 4.1.22 – We scored another PERFECT Florida weather day for our March Highlands County Corvettes Car Show. Days like that are why we choose to live here and why people from all around the world come here for the winter.
We had an excellent turnout with 32 Corvettes, our best for this year. If we had a mid-year C2 (1963-to-1967) at the show we would have had all eight generations of Corvettes represented. For our C2 owners, y'all bring your Sting Ray, we'd love to see your car. If you think about it, you don't see many '63-'67 Sting Rays on the road these days. We sure do miss them!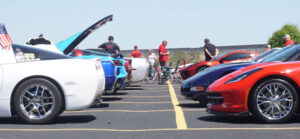 After the show, we had a short meeting inside the American Legion. Buddy Hodgdon won the Huston Chevrolet oil change (an awesome door prize!) and Marty Rowe won the consolation prize. Our other Door Prize winners included; Bill Bridges, Jack Murphy, Scott Sorter, Jim Maze, Jeff Burgin, Jim Schindlebeck, and Edde King. Michael Kucsma not only won a door prize, he also won our 50/50 drawing, taking home $115, our highest payout ever! So, KUDOS to Mike!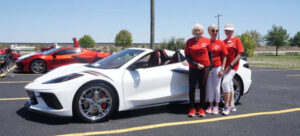 Our activities Director, Edde King is working on some new Destination Events that will be announced when she has the dates and places nailed down. I will be announcing a Destination Event to Bill Tower's Private Corvette Museum in a separate post soon.
The year is flying by and we have two more shows before we take our summer break; April 23 and May 28. Bring a Corvette friend!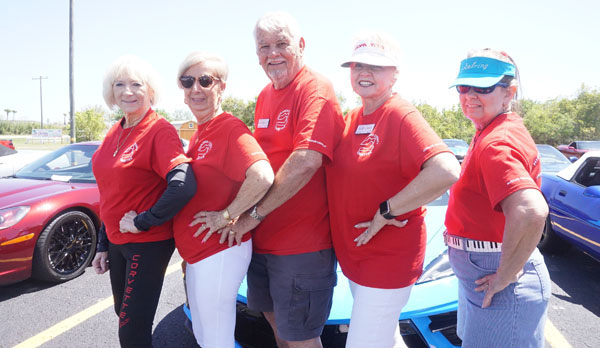 And for those of you that can stand the heat, Lake Country Cruisers will tentatively be having a Father's Day Car Show on the Saturday of Father's Day weekend. Then there's the Caladium Festival Car Show in July, and their Labor Day Weekend show (Saturday). The location of the Father's Day and Labor Day shows will be announced and the Caladium Car & Bike Show will be at Stuart Park in Lake Placid, Saturday, July 30. You can follow the above shows at, http://.www.LakeCountryCruisers.com .
Corvettes are DEFINITELY invited!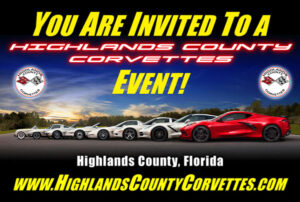 We still have a supply of invitational promotional postcards that say on one side, "You Are Invited To a Highlands County Corvettes Event!" We will have them at our next show in April if you would like some. I keep a small bundle in our Corvette and our daily-driver car so that if I see a Vette in a parking lot, I put one under the windshield wiper as an invitation to our shows and the club.
Stay safe and healthy so we can see you at our next Corvette show on April 23, 2022. Until then, Find New Roads! – Scott, John, and Mary Carol
PS – At our next show, bring an American flag. Let's festoon the American Legion parking lot with our beautiful American flag! We love our great flag!